Local, Regional & Global Representation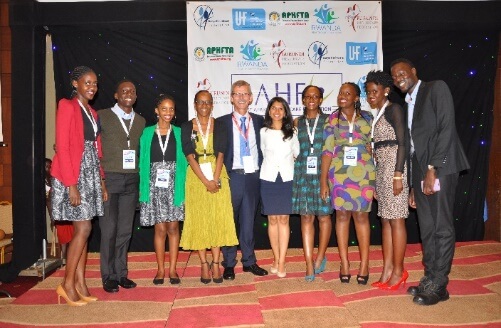 5th EAST AFRICA HEALTHCARE FEDERATION(EAHF) CONFERENCE
During the year, UHF hosted the 5th East African Healthcare Federation (EAHF) conference from 5th to 7th June at the Sheraton, Kampala. UHF first hosted the inaugural conference in 2012, and it has since been held in Tanzania, Kenya and Rwanda. The theme for this year's event was "The Role of the Private Sector in Attaining the Healthcare Sustainable Development Goals (SDG's)" with over 490 delegates registered from 26 countries to hear over 40 speakers. The State Minister of Health for General Duties, Hon. Chris Baryomunsi officially opened the conference and shared key statistics on the sector performance. During the Conference we were honored to hear thoughts from the US Ambassador to Uganda (Amb. Deborah Malac), together with World Bank Program Leader Human Development, Michele Gragnolati and Prof. Khama Rhogo, World Bank Lead Health Specialist & Health in Africa Initiative who both delivered the key note addresses. The conference was sponsored by International Finance Corporation – World Bank group, PharmAccess Foundation, USAID, Philips, PSI Kenya, General Electric and Africa Capacity Alliance. Exhibitors at the event were; AAPC, Philips, The Nairobi Hospital, Uganda Health Marketing Group, PACE, Access Mobile, Biolitec, Fanem, Sanugit Ltd, Smart Applications, Africa Health Business Symposium, International Hospital Kampala and Uganda Catholic Medical Bureau. Association of Private Health Facilities of Tanzania (APHFTA) will host the 6th EAHF Conference scheduled for 2017.
4TH EAHF CONFERENCE, KIGALI, RWANDA
The 4th EAHF conference was hosted by the Rwanda Healthcare Federation (RHF) in partnership with the Kenya Healthcare Federation, Uganda Healthcare Federation, Association of Private Health facilities in Tanzania in Kigali Rwanda from the 17th to the 19th of May with the theme 'The Role of the Private Sector in Financial Sustainability of Healthcare Delivery Systems".
It is notable that the conference is increasingly drawing delegates from throughout Africa and other continents. This is significantly boosted by the presence of the Federation in West Africa, spawning the establishment of the West Africa Healthcare Federation which, whilst still in its infancy, has set up secretariats in several Anglophone and Francophone countries. In Kigali 2015, over 25 countries were represented.
UHF secured funding and sponsorship for over 10 delegates representing both the private and the public sector. This impressive and sizeable delegation was actively involved throughout the conference sitting on panels, moderating sessions and giving presentations. Some also sponsored the event and were exhibitors. Delegates from Uganda included; the Minister of state for Health, Hon. Dr. Chris Baryomunsi, CEO of Insurance Regulatory Authority, Mr. Hajji Kaddunabi, CEO of Cipla Quality chemicals, Mr. Emmanuel Katongole, Registrar of Uganda Medical and Dental Practitioners Council, Dr. Katumba Ssentongo, UHF board members and secretariat and also a wide range of self-sponsored UHF members and partners.
3RD EAHF CONFERENCE NAIROBI KENYA
The 3rd East Africa Healthcare Federation conference held in Nairobi Kenya with the theme 'Creating Business Opportunities in Healthcare in East Africa' was organized and hosted by the Kenya Healthcare Federation (KHF) in partnership with Uganda Healthcare Federation, Association for Private Health facilities in Tanzania (APHTA) and Rwanda Healthcare Federation. The conference was officially opened by the Cabinet Secretary for health in Kenya Mr. James Macharia, in addition to distinguished guests from EA Ministries of Health included Dr. Ruhakana Rugunda Minister of health Uganda and Dr. Margaret Mhando-Ministry of Health Tanzania. The conference brought together over 650 participants drawn from the public and private sectors across Africa, Europe, Asia and the Americas. Over fifty speakers presented sessions on a broad range of issues facing the health sector. From Uganda UHF organized and delivered a well-represented cross cutting section of top delegates from both the private and public sectors. UHF secured funding and sponsorship for over 12 delegates from two donor agencies Private Health Support Program/USAID and International Finance Cooperation World Bank. The delegates who included the minister, plus top officials from his ministry together with KCCA (Kampala City Council Authority) were together with UHF board members, chairman, secretariat plus over 40 delegates representing a wide range of self-sponsored UHF members and partners.
PSFU BOARD MEMBER ELECTION AND REPRESENTATION
Subsequent to consultation and voting from members of UHF Dr Ian Clarke was nominated to be UHF candidate for a position on the board of Private Sector Foundation Uganda. PSFU is the apex body which represents all the private sector to government and sits on the East Africa Business Community. Organizations such as Uganda Manufacturer's Association, Kacita, and Federation of Ugandan Employers are members of PSFU. UHF is a member, as the umbrella body representing the private health sector. The membership of the board of PSFU has four members from 'ordinary upper category', two from 'ordinary lower', two from large corporate organisations, and seven from the seven business sectors. The health sector is part of the sector which also includes – skills, education, health and professions. However there is only one representative from each of the seven sectors. Since UHF is also in the 'ordinary lower category' which has two representatives we were advised to stand in this category. The organizations in this category which were nominated included Kacita, Tea growers, Farmers and UHF. Dr. Ian Clarke was voted in, with the highest number of votes in this category, and has hence been elected onto the board of PSFU representing UHF.
ACCESS TO FINANCE CONFERENCE –DCA
On 25th February 2014 at Golf Course Hotel Kampala, Uganda Healthcare Federation sponsored by International Finance Cooperation – World Bank working in partnership with the USAID Uganda Private Health Support project put together the first conference in a series of many through the year show casing and presenting various pathways to accessing finance in this New Year 2014. Delegates from all across the private non-state health sector ranging from large hospitals, pharmaceutical companies, diagnostics, laboratories and non-state faith based health entities all contributed to the discussions of the conference.Amongst the presentations was the newly launched Development Credit Authority readily available at both Eco Bank and Centenary bank. Officials from both banks set up emergency clinics to assess funding viability and follow on appointments to see that the private health sector accesses funding and continues to flourish nationally, with a rural reach impact.
It was an interactive session with plenty of opportunity to network directly with the speakers and address those most pertinent issues or questions. Tips on how to gain successful financing were presented and level of technical support the private health sector can continue to access through Uganda Healthcare Federation in partnership with donor agencies and the banks that will be providing the lending facility.